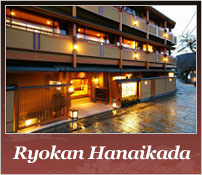 Kyoto Arashiyama Onsen
Ryokan Hanaikada
Minami-tsume, Togetsu-kyo, Arashiyama, Nishikyo-ku, Kyoto City, Kyoto Prefecture, 616-0004
TEL: +81-75-861-0228



- English speaking staff
- Private open-air onsen bath
- Free pick-up at JR Saga Arashiyama Sta.
- Rooms with open-air onsen bath
- Free WiFi at the lobby
- Free shuttle to the scenic railway
- Japanese-style guest rooms
- Major credit cards accepted
- Check-in : from 3:30 p.m.
- Check-out : until 10 a.m.

We serve dishes made with fresh ingredients carefully selected by our master chef at a local market every morning. Breakfast is served at the large hall, while dinner is served in your room.
Breakfast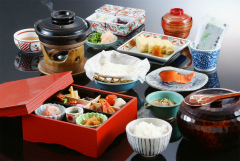 Enjoy breakfast with a variety of dishes, including your choice of grilled fish from few kinds of fish.
Kaiseki course (dinner)
Nabe hot pot course (dinner)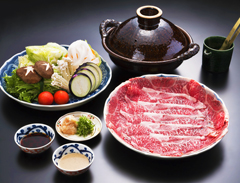 We serve botan-nabe (nabe with wild boar meat) and tecchiri (nabe with fugu blowfish) in winter and hamo-shabu (shabu-shabu with hamo Common Japanese conger) in summer, in addition to our regular nabe, including yose-nabe (nabe with various vegetables, meat, and seafood), and Japanese beef shabu-shabu.Order in advance.
Yudofu boiled tofu course (lunch)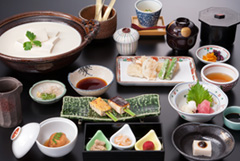 Enjoy healthy, delicious tofu dishes in our yudofu course. Enjoy Arashiyama tofu, which is warmed up in soy milk, in a bonito-based soup with your favorite condiments. Served without reservation. Charged separately. Lunch time only.
Please let us know about any requests regarding meals, such as vegetarian dishes, at least 3 days prior to your arrival (we may not be able to fully accommodate your requests).
Notice to Muslims about our meals
About Pork and Alcohol
Sake(Japanese wine) and mirin(Japanese sweet cooking wine) are used during the process of cooking. They are very important ingredients that provide hidden taste which is essential to traditional Japanese cuisine.
Alcohol is also used to disinfect cooking utensils.
There is only one kitchen to prepare meals for the entire hotel, and therefore it is difficult to completely avoid using alcohol.
Although we do not provide many pork dishes at the hotel, there are dishes that use essence of pork for seasoning.
We do not provide halal foods, or foods following Islamic dietary guidelines.
There are many other regulations that are not described above, and we regret to inform you that currently we cannot provide satisfactory meals to Muslim guests who would like only halal foods. Thank you for your understanding.